Magnetic Rods- Magnetic Rods Manufacturers & Suppliers in India
We are the Leading manufacturer of Magnetic Rod which is simplistic device comes to magnetic strengths and precision in dimensions, with persuasive magnets at the end of a plain rod taking away of magnetic substance.
The thickness of the Magnetic rod is optimized to obtain highest efficiency of the magnet inside,it optimized to handle flow rates and high ferrous material at deposition levels. Magnetic Rod  Manufacturer have exceptional characteristics including high corrosion resistance, light in weight, robustness, as well as effortless application, effective and long-term life, and simple design with multiple uses and It is outstandingly appropriate in drawing miniature components made up of ferrous substances including nuts, screws, nails etc. Magnetic rod is used to hold and get rid of iron rudiments from the free flowing dry materials comprising of grains, tea, sugar etc. We offer Magnetic rod in India and Other countries for industrial purpose at reasonable prices.
Industries Using Magnetic Rod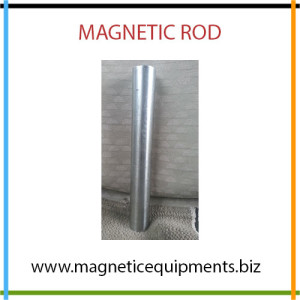 Magnetic Rod Manufacturer
Magnetic Rod Manufacturer has simplistic design and is to use tool and has excellent powerful magnets at both of its ends that is used for manual elimination of unnecessary magnetic particles present in any material that is to be removed. Magnetic Rod manufactured based on global standards and are made by the use of latest technology and easy to handle,cost effective can be used in any kind of industries.
Magnetic Rod is long circular magnet where the length is equal to or greater than the diameter, they are ideal for recessing into a drilled hole in a holding or sensing application. We hold a selection of stock sizes and can manufacture to our customers' specifications, magnetic rod special features are durable, strong nature, beneficial, high efficiency. We make use of high grade stainless steel material that is convenient and long lasting rust free raw-material for manufacturing of good magnetic rod and its better performance.
Application area of Magnetic Rod
Magnetic Rod are specially made to remove the fine ferrous impurities from the free flow materials which  is widely used in the production of the flour, grain processing, sugar, ceramic slurry and many more and  also used in food processing also used for material having low moisture  content.
Our range includes Neodymium and Samarium-cobalt earth rod neodymium rods which are used in many industrial applications while Samarium kinds of rods are efficiently used in high temperature, Magnetic Rod manufacturer also provide customization of the rod for specific application of industries.